Consecration of Khachkar in Shoshkavank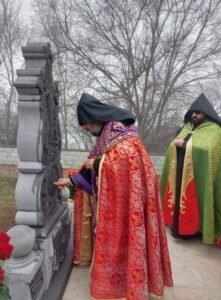 On November 16, in the courtyard of the Church of the Holy Mother of God in Shoshkavank, a khachkar consecration ceremony took place in memory of the victims of the 44-day war and Major General Norayr Mirzoyan.
The khachkar was established under the auspices of Shoshkavank benefactor Tigran Khachatryan, and consecrated by the Primate of the Artsakh Diocese, His Grace Bishop Vrtanes Abrahamyan. The ceremony was attended by the benefactor of the Church of the Holy Mother of God Tigran Khachatryan, relatives and friends of Norayr Mirzoyan. At the end of the ceremony, His Holiness wished those present inner peace and quiet:
"We live with the correct ideology, which should provide Armenians with the opportunity to live and build the future correctly. Khachkars for us are a symbol of the power of faith, and this height is a place of worship for saints. All Armenians have a striving for peace, freedom, and faith. If we can believe and master this truth, we will receive the key that will lead us to the Kingdom of God. We must live, create, educate a generation here, we must pray for our fallen sons so that they can see us from above in unity, in love, and harmony. "