The Newly Anointed Hieromonk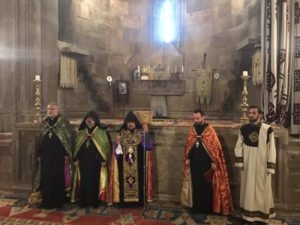 On April 25 this year with the blessing of His Holiness Garegin II, Catholicos of All Armenians, by the hand of the Primate of the Artsakh Diocese Bishop Vrtanes Abrahamyan, a member of the Dadivank community Deacon Manvel Sargsyan was ordained in the Gandzasar Monastery.
On the evening of April 24, the day before the ordination liturgy, a donation ceremony was held in Gandzasar. The ceremonies of the next day were originally planned to be held in Dadivank, but because of the ban of the Azerbaijani side, they were held in Gandzasar.
In honor of Bishop Atanas, the abbot of Dadivank, who erected one of the famous khachkars, the ordained deacon was named by Father Atanas. The Holy Father is currently in Dadivank, where he is holding a forty-day fast, which is a common tradition in the Armenian Church.
Despite the uncertain status and blockade, there are six monks in Dadivank all the time under the leadership of the Catholicos of All Armenians.