Liturgies may be served at Shushi Cathedral of the Holy Saviour Ghazanchetsots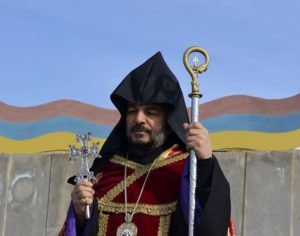 The newly appointed Primate of the Artsakh Diocese, Bishop Vrtanes Abrahamyan, in his first interview with the media after his appointment, told "Radiolur" about the upcoming events and important steps. One of these days he's going to Artsakh.
The first liturgy of the diocesan leader will be served on February 7 at the Church of the Most Holy Theotokos in Stepanakert. And during this time, a number of important steps have already been taken ․
Negotiations are underway in the Shushi Cathedral of the Holy Savior Ghazanchetsots and in other monastic complexes of Artsakh, not controlled by the Armenian side, to carry out a spiritual mission under the control of Russian peacekeepers. There were even high-level discussions. The newly-appointed head of the Artsakh Diocese is full of hope that a positive reaction will not be long in coming.
Letters were also sent to Rustam Muradov, the commander of the Russian peacekeeping troops stationed in Artsakh, with the aim of extracting spiritual values in the territories not controlled by the Armenian side. The answer is expected in the coming days.
The Artsakh diocese has shrunk because of this outcome of the war, but the mission is great, now it is bigger, said Bishop Vrtanes Abrahamyan, who was previously the spiritual leader of the Armenian Armed Forces.