The Primate of Artsakh Diocese is 60 years old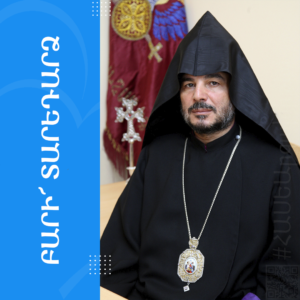 Today, the Primate of the Artsakh diocese, His Grace Bishop Vrtanes Abrahamyan, is celebrating his 60th birthday.
Dear Bishop, the entire staff of the Artsakh diocese warmly congratulates you on your birthday.
You have passed a long and difficult path, overcoming many trials with wisdom. Your role and contribution is very great to the activities of the Armenian Church. With your holy mission, you won the love and trust of the believing people and rekindled the light of God in their hearts, taking care of the flock entrusted to you.
For many years you have carried out your selfless service in the Armed Forces of the Republic of Armenia as a Head Chaplain , bringing the inseparable connection between the Church and the Army to a new level. The Armenian world throughout its history has faced many obstacles and difficulties, on the way to such trials the Armenian Army and the Armenian Church have always walked side by side, leaving all problems in the past. On this difficult path, your contribution as the Head Chaplain of the RA Armed Forces was great.
A year ago, in the difficult post-war period, being called to the holy and at the same time responsible position of the Primate of the Artsakh diocese, you embarked on this sacred mission with great inspiration and dedication.
Sincerely, from the our purest hearts, we pray that the Almighty Lord will send you good health, long years of fruitful activity, so that for many years with God's blessing you will lead your flock to good havens of light and peace.