Patriarchal visit of the Catholicos of all armenians in Artsakh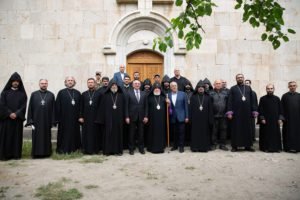 His Holiness Garegin II, the Supreme Patriarch and Catholicos of All Armenians paid a three-day visit to Artsakh on June 4 following his stay in the Syunik diocese.
His Holiness brought the relics of St. Gregory the Illuminator, which are kept in St. Echmiadzin Cathedral for blessing and consolation for Artsakh.
The delegations headed by His Holiness and AGBU President Perch Sedrakyan were met at the border by the Prelate of the Artsakh Diocese Vrtanes Abrahamyan, clergy, and the Deputy Commander of the Russian peacekeeping forces Father Boris Grishin.
Then His Holiness visited Bed of Honour of the Second Artsakh War in Stepanakert with Artsakh President Arayik Harutyunyan and top officials to pay tribute to fallen soldiers and had a mass for the repose of their souls.
The same day saw His Holiness, former Artsakh President Bako Sahakyan, and the clergy of the diocese visit st. Gregori's church of Amaras monastery, nearby communities, and military personnel.
His Holiness held a memorial mass for the war martyrs and a common prayer for peace in Artsakh and protection of all Armenians by the grace of Almighty Lord.
He blessed the assembled and called for mutual consolation after national challenges, strengthening one another the Word of our Lord, saying:
" Because you have kept the word of my patience, I also will keep you from the hour of temptation… (Revelation 3:10)". The promise of our Lord Jesus Christ calls us to patience and faithfulness and helps us to advance, calmly address challenges and tasks ahead of us, unite, empower, grow wiser by hardships, leaving discouragement behind. Times of trials and tribulations urge the necessary to be firmly united, resilient, and devout in strengthening the faith of our Lord Jesus Christ, in our homeland, blessed by the blood and sweat of our people for centuries.
"You now stand strongly in your land, every inch of which attests of our history, our Christian identity, our creativity, our honest aspirations for peace and justice.
Artsakh, a gem of our homeland, is also one of cradles of Christianity, spread by disciple of Christ - apostle Thaddeus, Dadi and Yeghishe, later by St. Gregory's grandson – youngly-martyred st. Grigoris. He is one of many holy martyrs that are the seed for tens of hundreds monasteries and churches in Artsakh.
Artsakh also housed one of the first schools in Armenia opened by st. Mesrop Mashtots.
Beloved, your life today on this sacred land, your commitment and resilience inspires Armenians around the world. Yes, Artsakh continues to remain a symbol of faith and patriotism of our people, continues to unite our people around national aspirations. Our readiness to support Artsakh, to protect the rights of our children here is on the rise" said His Holiness.
He also mentioned the strong intention of Artsakhians to restore houses, schools, hospitals, and shrines destroyed by disastrous war.
His Holiness called the Artsakhians and all Armenians to trust the Lord, put joyfully hope on Him, and rebuild the country and lives of people for a free and independent homeland. He said that our unity, resilience, sacrifices, and unconditional devotion would make us worthy of our courageous sons who fought to the death to protect our Motherland.
His Holiness prayed for God's grace and protection for Artsakh, for the rest of the souls of martyrs, healing of the wounded, return of the missing, and comfort of the bereaved through the intercession of st. Grigoris of Amaras. His Holiness also asked God's blessing for every good endeavor in Artsakh and fulfillment of national aspirations. Then he paid tribute to the tomb of St. Grigoris that house his relics.
His Holiness enquired into the reconstruction of the Amaras monastery. His visit was finalized by a meeting with the families of fallen soldiers of the Matchkalashen community to bringing them consolation and blessing.