THE CALL TO REPENTANCE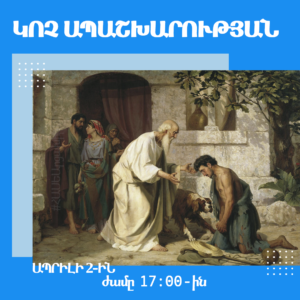 DEAR COMPATRIOTS
The Artsakh Diocese of the Armenian Apostolic Holy Church, being concerned about the security of our country, calls the people of Artsakh to repentance.
Only God can bring us out of this situation. "Return to Me and I will return to you," says God.
To this end, on April 2, at 17:00, the Artsakh diocese invites everyone to a joint prayer for peace in Artsakh in the Church of the Holy Mother of God in Stepanakert and in all functioning churches of other communities.
Participation in prayer of each person is highly desirable. If you are physically unable to participate, please join the common prayer with your thoughts and soul.
The Artsakh diocese calls on our people to arm themselves with firm faith and patience, reflecting on our life and our connections with God in these difficult times. Always paying attention to spiritual reality, participate in church ceremonies, contributing to your own spiritual awakening.
Our slogan: " What is impossible for people is possible with God."
May God protect and keep Armenia and Artsakh...
® Artsakh Diocese of the Armenian Apostolic Holy Church