Holy Mother of God Monastery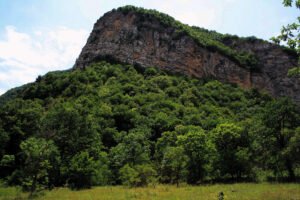 Shahumyan Province, c. Karvachar
This monastery is located in the Shahumyan region, on the right bank of the Trtu River, at its point of confluence with the Iritsajur River.
It dates to the 12th-13th centuries. This ancient monastery has been erroneously described as being Caucasian Albanian by Azerbaijani academics. In order to eradicate the evidence supporting its Armenian origin, the Azeris between 1989 and 1993 laid ruin to the monastery and defaced thirteen inscriptions on its walls.
The complex consisted of two small churches, a pillared hall, and a vestibule. One ancient church was constructed in 1174, while the other one was erected in 1178. The history of other parts of the monastery was lost along with the defaced inscriptions.
Nearby, there are newer buildings likely dating to the 17th century, including partially buried church, with a baptismal font. The vestibule and nave, together with other adjoining rooms lie in ruin. A chapel constructed in stages from the 12th to 17th centuries and the ruins of monastic cells are preserved on the southwestern side of the site. Yet another church with a vestibule is located in the vicinity of the Holy Mother of God Monastery, on a cliff overhanging the opposite bank of the Trtu River.
Bibliography
«Diocese of Artsakh» (2009), Erevan, 411 pp.