Holy Liturgy in Martuni St. Church of Nerses the Great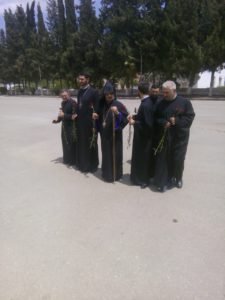 On June 12, 2021, on the occasion of the feast of Saint Nerses the Great and Bishop Khad, the holy and immortal Divine Liturgy was served in the Martuni Church of Saint Nerses the Great under the chairmanship of Bishop Vrtanes Abrahamyan by the pastor of the Martuni community, priest Aram Telikyan.
The head of the Martuni region administration Erik Avanesyan, the mayor of Martuni Aznavur Sagyan, pilgrims from neighboring communities, and Stepanakert took part in the liturgy.
Since the holiday of His Holiness the Patriarch this year coincided with the anniversary of the death of the hero of Artsakh, Monte Melkonyan, a memorial service was held after the liturgy for Monte Melkonyan.
On this significant day, at the end of the Liturgy, a sacrifice was offered among the believers.
After the liturgy, the clergy of the Martuni region, led by the diocesan leader, visited the Monte Melkonian monument in the central Martuni square to pay tribute to the national hero.
A memorial service was held at the monument under the chairmanship of the Abbot of Amaras, Father Geghard Hovhannisyan, for the peace and salvation of our soldiers who died during the war and the souls of the heroes of the Armenian people.