Opening of a Khachkar in Memory of the Machkalashen Heroes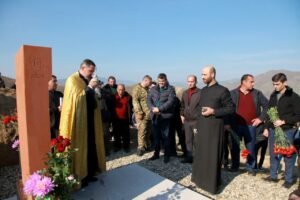 On November 21, at one of the nearby posts of the village of Machkalashen, a khachkar was opened in memory of the heroes of the village of Machkalashen, who died in the 44-day Artsakh war. The khachkar was consecrated by the priest of the Artsakh Diocese, Father Andreas Tavadyan. The opening ceremony was attended by President of the Artsakh Republic Arayik Harutyunyan, head of the Martuni region administration Edik Avanesyan, head of the village of Machkalashen Lernik Avanesyan, relatives and friends of the heroes, as well as soldiers. After the consecration of the khachkar, flowers were laid.
Addressing those present with a sermon, Father Andreas noted:
"By installing the khachkar, we perpetuate the memory of our brothers who gave their lives for our peaceful life. By their death, they gave us life. We must continue the sacred mission of strengthening and preserving peace in Artsakh with greater responsibility. As Golgotha became a sacred place for Christians, so this hill, on which the khachkar was installed, should become a sacred place for the residents of the community, imparting an unshakable spirit to the local military personnel. "
Blessed be the memory of the righteous ...