Meeting with Valerie Boyer in the French senate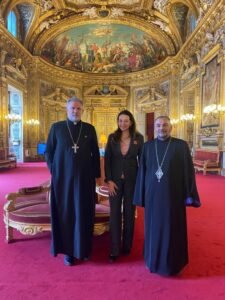 French politician, deputy Valerie Boyer received in the Senate the Primate of the Artsakh diocese, Bishop Vrtanes Abrahamyan and the pastor of the Martakert region, the former abbot of the Dadivank monastery, father Hovhannes Hovhannisyan.
"Faced with a threat from Azerbaijan in Artsakh, a few months ago Father Hovhannes Hovhannisyan received me at Dadivank Monastery. I wanted to meet him again in the Senate.
While the international community is fully involved in the war in Ukraine, I once again ask the government, the European Union, UNESCO to intervene to protect the Armenian population and its cultural heritage," Valerie Boyer wrote on her page.
Later, Valerie Boyer also spoke about Azerbaijan's recent encroachments on Armenian villages, noting:
"Hundreds of villagers, including children, still live far from home. "And the Azerbaijani army is not withdrawing its troops, moreover, it is strengthening its positions."
Speaking about the large-scale aggression of Azerbaijan in 2020, she noted:
"The spirit of genocide revived in them. And the world silently watches and does nothing. The attacks continue in an atmosphere of indifference."