The primate of Artsakh Diocese received the minister of ESCS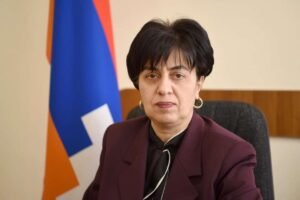 On March 3 of this year, the Primate of the Artsakh Diocese, His Grace Bishop Vrtanes Abrahamyan received the newly appointed Minister of ESCS of Artsakh, Anahit Hakobyan. The Primate of the diocese congratulated the minister on his appointment to a new position, wishing her strength and opportunities to carry out this responsible mission.
The ways of cooperation, plans for the future and programs for preserving the spiritual and cultural heritage of Artsakh and ensuring spiritual security were outlined.
The Primate of the diocese noted that the preservation of spiritual security plays a key role in the process of ensuring the security of the country, in the direction of which the Artsakh Diocese has already taken another practical step by reopening the office of the Center for Christian Education and Propaganda of the Artsakh Diocese.
It was also noted that it will be in constant contact both with the Ministry of ESCS and with all educational institutions of the Artsakh Republic, trying to direct those involved in the above-mentioned system to the bright path of God. And it is in this holy mission that we see the way to save Artsakh.