Issues on the national agenda in the focus of Italy's attention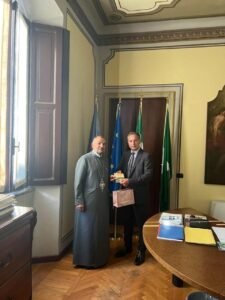 The Primate of the Diocese, His Grace Bishop Vrtanes Abrahamyan, recently visited Italy at the invitation of the "Una voce nel silenzio" association. The association, striving to make the voice of oppressed Christians heard in the world, visited Artsakh immediately after the last Artsakh war for this purpose.
These days, Bishop Vrtanes arrived in Lombardy, which accepted the independence of Artsakh. The Primate of the Diocese visited the province of Lombardy, had meetings with councilors, deputies, representatives of local governments, and spiritual leaders. During the meetings, the current situation in Artsakh and the issue of the rights of Christians in the post-war period were discussed.
Within the framework of the meetings, a plan was also discussed for opening a youth educational, scientific and creative center in Amaras.
Worried about the tense situation that has developed in our homeland these days, the Primate of the Diocese gives an interview to local television companies in order to raise the level of awareness of Italian citizens about the ongoing aggression of Azerbaijan, from which the Armenian people are suffering.