Speech of the Primate of the Artsakh Diocese at a nationwide rall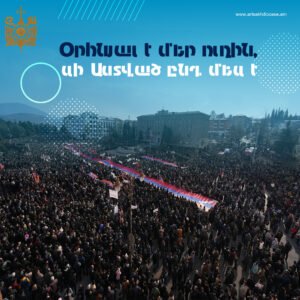 December 25, 2022
Dear compatriots, sisters and brothers!
Today we once again gathered at the Renaissance Square in the capital of Stepanakert to show our unity and determination, first to ourselves and then to the outside world, and we can record that we have succeeded in this matter. But despite this, we are united today by a common concern for solving many problems and restoring confidence in the future: "What should be the salvation of our people?"
Yes, troubles often help us sober up, unite and look for ways of salvation, but all this should not be an end in itself and fruitless, but should provide an opportunity for practical and tangible steps.
In spiritual reality and human experience, there are two parallel and interconnected truths turned into a formula, which are quite relevant for us as well. The first says: "Save yourself, and many around you will be saved," and the second: "Conquer yourself, and everyone will bow before you."
We all confidently think that if we had won the last Artsakh war, we would not face such difficulties today. But I want us to be able to study the realities more deeply and understand that the most dangerous enemies than external enemies are inside, among us. Unfortunately, our nation too often falls from one extreme to another. When the country was on the verge of destruction 30 years ago, we united, publicly repented and achieved great victories.
But the real test comes after victory, when prudence are needed to maintain peace of mind, in order to have the same sense of justice and equality of people that we had in moments of danger.
As history has repeatedly shown, often after victory, our internal enemies - selfishness, personal gain, and the 8th deadly sin - indifference to another person and nation - rise up and spoil our image, God and the Church are forgotten, and considering the present as a final and permanent state, everyone begins to prefer worldly values ​​to heavenly values.
Getting out of this deadly cycle should be the main task of our national life, and if we could defeat the above-mentioned internal enemies, then no external enemy would dare to deal with us.
And how to deal with them? The leader of our faith - Jesus Christ, has been kindly calling all people and nations for 2000 years, giving them the key to true victory and salvation: "I am the Way, the Truth and the Life."
Dear compatriots, today, when Artsakh is under the physical blockade of the enemy, and when all the roads around us are closed, let's look up and see that the roads leading to the sky are always open. These days of isolation from the world are an opportunity for our self-purification and restoration of unity, so let's start to love, forgive and appreciate each other more, because we are all in the same boat, and we all have the same thoughts and concerns.
Today, the future of Artsakh has again become another test of Armenian dignity, and in order for this test to receive a worthy assessment, we, as a nation, must sober up and come to our senses.
Artsakh and each of you will become an awakener of the spirit and conscience of our people.
Taking advantage of the opportunity provided by our meeting today, and feeling the innermost thoughts of each of you, as the Primate of the Artsakh Diocese, I would like to address the people of Artsakh living in Mother Armenia and in different parts of the world. Yes, Artsakh is the property of every Armenian, but first of all, he needs children born from his womb. Today, Artsakh needs the physical presence of its indigenous children more than the fact that they pray for their homeland and are proud that they are citizens of Artsakh, therefore, dear people of Artsakh, look into your soul, try to understand what you will gain from this life before God if you lose the treasure entrusted to you, the backbone of your personality.
I appeal and urge you to return to Artsakh and take possession of the Holy Relic entrusted to you. If we had at least half a million Armenians in Artsakh before the war, we would have a completely different situation during the war in 2020, and maybe there would not have been a war.
Together with all this, we bow down and pray to God for our heroic martyrs. We bring our gratitude and blessings to all those people of Artsakh who, after so many hardships, remain attached to their roots and native land. You are a heroic people, and our future victories will be built on this basis.
In this vein of the struggle for the survival of the Artsakh statehood, we highly appreciate the selfless service of the statesmen of the Republic of Artsakh, as well as the mission of the peacekeeping forces of the Russian Federation.
Dear compatriots, on the occasion of this meeting, we convey to you the paternal blessing of His Holiness Karekin II, Catholicos of All Armenians, and the support of our entire Church in the righteous struggle of Artsakh.
Today, the Armenian Church is doing everything possible and impossible to cheer up our people with its prayers and unite on the issue of Artsakh so that the voice of the people of Artsakh can be heard at various international platforms.
Today the Catholic Church celebrates Christmas, therefore, on this occasion, we also address our call to the entire Christian world to rise above political motives and, driven by Christian love, respond to the issue of protecting the fundamental human rights of their brothers and sisters living in Artsakh, so that we too would have an opportunity to fully and peacefully celebrate the wonderful holiday of Christmas.
Believe me, our path is blessed, because God is with us, and whatever temptations may be, they are powerless to destroy us if, according to the word of God, we serve one another with love (cf. Gal. 5:13). May the Lord bless the Artsakh, may the Lord bless our righteous struggle.