JOINT PRAYER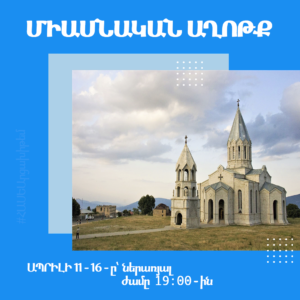 DEAR COMPATRIOTS
The Artsakh Diocese of the Armenian Apostolic Holy Church appeals to the people of Artsakh with a call to united prayer in order to ask the support of Almighty God for the safe, peaceful and prosperous life of the people of Artsakh.
A joint prayer will take place on all days of the "Head Week" preceding Holy Easter, at 19:00 (from April 11 to April 16).
We ask all residents of Artsakh, all God-fearing and patriotically conscious people to leave their extraneous affairs and activities during the "Joint Prayer" and participate in this sacred Vow.
Our slogan:
"Every prayer said in faith will not remain without fruit."
May God protect and keep Armenia and Artsakh...
♰ ® Artsakh Diocese of the Armenian Apostolic Holy Church ♰