Tsitsernavank
Kashatagh Province, Tsitsernavank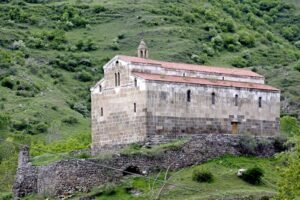 The Church of St. Gevorg in Tsitsernavank is one of the most famous pilgrimage churches in Armenia, built on the northwestern outskirts of the village of the same name, on the right bank of the Aghavno tributary of the Khakari River. The exact date of the construction of the church is 4-6 centuries. It belongs to a series of three-aisled basilicas, has a rectangular shape, four pairs of pillars and a middle nave. The current Tsitsernavank is influenced by several stages of construction. According to some reports, on the site of Tsitsernavank, there was originally a pagan temple, which after conversion to Christianity was converted into a church.
A key feature of the Tsitsernavank Basilica is that it has no entrance from the west, which is typical of pagan temples.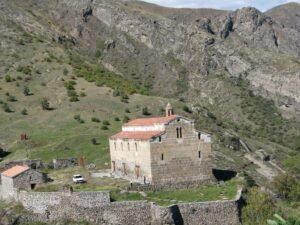 The monastery is known as Tsitsernavank, Tsitsarnavank, Tsitsernakavank, Tsitsarneku, Tsitsarna-, Tsitsar-, Tsitsarnu-, Tsitsernak- vank. According to legend, the little finger of the Apostle Peter is buried here, from which the monastery got its name (in the ancient Armenian language the word "tsitsern" means little finger). In one of the medieval manuscripts, Tsitsernavank is called Matnevank, which is undoubtedly connected with the myth of the saint's little finger buried here. There is another opinion, according to which the monastery got its name from the name of the favorite cult object of the bird - the swallow. Another myth associated with Tsitsernavank is noteworthy, according to which, during the construction of a church, a snake poisons food prepared in one large cauldron for hundreds of farmers. Seeing this, the crow flies and warns people, but they, not understanding the behavior of the bird, kill it. Then, having learned about the situation, they bury crow with honor, call that place Crow's grave and carve the image of a snake on the wall of the church.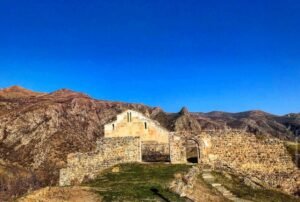 Probably, the basis of this legend was a unique flat sculpture of three snakes, entwining one of the northern pillars of the central nave. At the end of the 19th century, there were 70 Armenian houses, 30 houses of resettled foreigners, and at the beginning of the 20th century, 25 Armenian houses and 100 houses of Muslim Kurds, who renamed the village to the village of Zeyva.
Before the liberation of Artsakh, Tsitsernavank was turned into a barn by the Azerbaijanis, and the floor was completely destroyed.
Since the NKR's Independence, Tsitsernavank has completely reconstructed through the efforts of the Artsakh Diocese and it is once again a functioning church.
Azerbaijan has launched an active campaign for the Albaninization of Tsitsernavank and Dadivank, trying to present to the world its falsification as a historical argument by swearing an oath to the Udi clergy living in Azerbaijan.
Bibliography
«Diocese of Artsakh» (2009), Erevan, 411 pp.